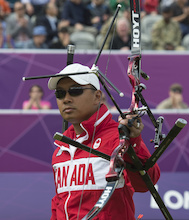 Crispin Duenas of Toronto, Ontario has won one of the biggest archery events in the world. On Sunday, Duenas won the men's recurve event in Rome, Italy. In the third stage of the Indoor Archery World Series, Duenas won the Roma Archery Trophy over Brady Ellison of the United States in the final. The win should boost Duenas's confidence significantly as Ellison is a three-time Olympic medalist. Ellison won back-to-back silver medals in the team competition at the 2012 Olympic Games in London and at the 2016 Olympic Games in Rio de Janeiro and a bronze medal in the individual competition at the 2016 Olympic Games in Rio de Janeiro.
In the qualification portion of the event in Rome, Duenas and Ellison shared scores of 593 points and were seeded first and second respectively, with Viktor Ruban of the Ukraine in third place with 587 points.
Then in the bracket stages, Duenas was dominant. He defeated 32nd ranked Matteo Fissore of Italy 6-0 in the first round, Massimiliano Mandia of Italy 6-2 in the second round, Andreas Gstoettner of Austria 7-1 in the quarterfinals, Jong Young Lee of South Korea 7-3 in the semifinals and then Ellison 6-0 in the gold medal final. Lee won the bronze medal. The gold medal for Duenas comes less than two years from the 2020 Olympic Games in Tokyo.