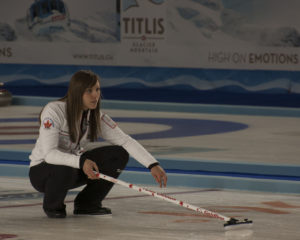 Rachel Homan of Ottawa, Ontario is now in the record books in the women's grand slam of curling. On Sunday at the 2018 Boost National from Conception Bay South, Newfoundland, the Homan team that included third Emma Miskew, second Joanne Courtney and lead Lisa Weagle, defeated Kerri Einarson of Gimli, Manitoba 4-1 in the championship final. By winning Sunday, Homan won her ninth women's grand slam of curling title, tying her with Canadian Olympic gold medalist Jennifer Jones of Winnipeg, Manitoba for the most all time. Kevin Martin of Edmonton, Alberta has the most men's grand slam of curling titles with 18.
In the 2018 Boost National, Homan finished Pool C with a record of three wins and one loss. She beat Casey Scheidegger of Lethbridge, Alberta 5-3 in draw three, Jacqueline Harrison of Waterdown, Ontario 6-3 in draw five, and Einarson 6-5 in draw 10. Her only pool play loss came to Olympic bronze medalist and 2013 World Champion Eve Muirhead of Scotland by a score of 8-5 in draw eight. In the quarterfinals, Homan beat Harrison 6-4, and in the semifinals, Homan trounced Jones 6-2.
In the championship final. Homan had three steals of one point each in four ends between the third and sixth ends. Einarson's only point came in the seventh end. It was a tough game for Kerri Einarson, as she only curled 54%.