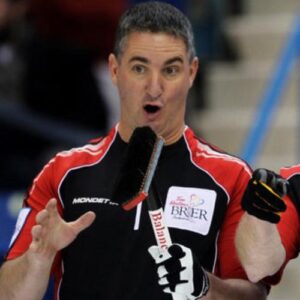 Heading into the 2020 Tim Horton's Brier, the third-ranked Wildcard Team was considered the senior club in the event, as their skip was four-time World Champion and 58-year-old Glenn Howard of Midland, Ontario. Unfortunately, Howard was unable to play this week because of a serious snowmobiling injury in late January, which broke nine of his ribs, collapsed his lung, and bruised his heart. The fact he is even in Calgary for the Brier, and played lead earlier this week against the North West Territories was noteworthy.
With Howard limited in his curling ability, the team's fifth player, 53-year-old Wayne Middaugh of Brampton, Ontario, has played more of a substantial role. Middaugh has moved into the skip position for the third wildcard team, and on Tuesday, came through with two extremely impressive nail-biter victories. The first was a 6-5 win over the first wildcard team in Mike McEwen of Brandon, Manitoba, and the second was a 4-3 win over British Columbia's Jim Cotter. In both games, the third-wildcard team scored two points in the final end to win the game.
Cotter has taken over the skipping duties for British Columbia from Steve Laycock. Even though British Columbia has been very competitive (for and against ratio of 0), the team has a record of one win and four losses in a mighty competitive Pool A. Manitoba leads Pool A at 5-0, and the second wildcard team, skipped by Calgary's Kevin Koe, leads Pool B at 5-0.