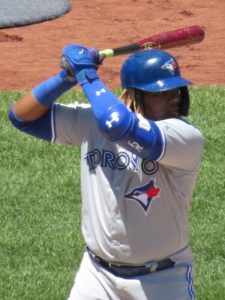 According to ESPN on Friday, Toronto Blue Jays first baseman Vladimir Guerrero of Montreal, Quebec became the first player in Major League Baseball history to hit a home run in his first plate appearance after winning the Home Run Derby. He accomplished the feat in a 7-2 Blue Jays win over the Arizona Diamondbacks at Toronto's Rogers Centre.
Guerrero's home run came in the bottom of the second inning. It came on a count of two balls and two strikes and was a 426 foot home run to left centerfield off of Diamondbacks starting pitcher Arizona starting pitcher Ryne Nelson. Guerrero then collected a second hit as he had a single to left field in the seventh inning.
On Monday, Guerrero became the second Canadian born player in Major League Baseball history to win the Home Run Derby. He followed Minnesota Twins first baseman Justin Moreau of New Westminster, British Columbia, who received the honour in 2008 at New York's Yankee Stadium.
Guerrero is batting .274 with 14 home runs and 59 runs batted in. During 90 games, 393 plate appearances and 351 at bats, he has scored 44 runs, and has 96 hits, 19 doubles, 32 walks, 157 total bases, and three sacrifice flies, with an on base percentage of .344 and a slugging percentage of .447.
After a 5-2 Blue Jays win over Arizona on Saturday, Toronto improves to a record of 52 wins and 41 losses. They have the second wildcard spot in the American League.