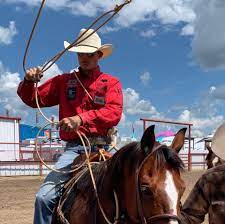 Kyle Lucas of Carstairs, Alberta won the eighth performance in tie-down roping at the 2023 Calgary Stampede on Friday. He posted a score of 7.6 seconds, and in the process took over the Pool C aggregate lead.
Lucas beat second place finisher Macon Murphy of Keatchie, Louisiana by 1.1 seconds. Murphy had a time of 8.7 seconds. Ty Harris of San Angelo, Texas was in third place with a time of 9.2 seconds. Lucas now has $9,000 after two events. Blane Cox of Stephenville, Texas is in second with $8750.
Dawson Hay of Wildwood, Alberta had the best score in the saddle bronc event. He had 86 points. Lucas Macza of High River was in second place with 83.5 points. Hay improved to third place in the Pool C aggregate standings with $7,000. Logan Cook of Alto, Texas is the leader with $8375. Ben Andersen of Rocky Mountain House, Alberta is second with $7500.
In the bareback, Kody Lamb of Sherwood Park, Alberta maintained the aggregate lead in Pool C with $11,500. He posted the third best score on Friday with 85 points. Kaycee Feild of Genola, Utah had the best score of 87 points and Taylor Broussard of Estherwood, Louisiana was second with 86 points. Orin Larsen of Inglis, Manitoba had the fourth best Pool C score of 83 points.
In steer wrestling, Stephen Culling of Fort St. John, British Columbia had the second best time of 3.7 seconds. Jesse Brown of Baker City, Oregon had the best time of 3.3 seconds. Culling is fourth in the Pool C aggregate standings with $5500. He is behind Brown ($12,500), JD Struxness of Milan, Minnesota ($10,875), and Rowdy Parrott of Mamou, Louisiana ($5875).
Chanse Vigen of Calgary, Alberta had the best time in the eighth night of the Rangeland Derby. He had a time of 1:11.03. Kurt Bensmiller of Dewberry, Alberta is the aggregate leader with a time of 9:32.31.