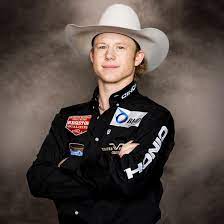 Six Canadians have qualified for the 2023 Calgary Stampede from Pool C at the 2023 Calgary Stampede. They are saddle bronc riders Dawson Hay of Wildwood, Alberta, Ben Andersen of Rocky Mountain House, Alberta, and Lucas Macza of High River, Alberta, bareback rider Kody Lamb of Sherwood Park, Alberta, tie-down roper Kyle Lucas of Castairs, Alberta, and steer wrestler Stephen Culling of Fort St. John, British Columbia.
In the saddle bronc, Hay posted the best score on Saturday of 89 points. He was followed by Macza at 88.5 points and Andersen at 88 points. In the Pool C standings, Hay finished first in the aggregate standings despite being bucked off on Thursday. Hay has won $14,000, while Andersen and Macza have won $12,000 each.
In the bareback, Lamb tied for first place in the Pool C aggregate standings with $12,000. He was tied with Kaycee Feild of Genola, Utah. In the tie-down roping, Lucas finished in fourth place in the Pool C aggregate standings with $10,000. Shane Hanchey of Sulphur, Louisiana was the Pool C aggregate leader with $14,000.
In the steer wrestling, Culling had the best time on Saturday of 3.9 seconds. He was tied with Hunter Cure of Holliday, Texas. In the aggregate standings, Culling finished second with $11,750. He was only behind Jesse Brown of Baker City, Oregon, who had $12,500.