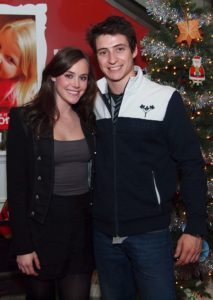 Canadian Olympic gold medalists Tessa Virtue and Scott Moir of London, Ontario made figure skating history on Friday by breaking the world record in the short program of an international competition. Virtue and Moir posted a score of 82.68 points at the 2017 Skate Canada in Regina, Saskatchewan. It was a quarter of a point more than their old record of 82.43 points which was set in the short program of the 2017 World Figure Skating Championships in Helsinki. 
Virtue and Moir currently lead another Canadian ice dancing pair. Kaitlyn Weaver and Andrew Poje of Waterloo, Ontario are in second place with 77.47 points. Madison Hubbell and Zachary Donohue of the United States are in third place with a score of 76.08 points.
Even though Virtue and Moir set a world record in the short program, a gold medal in Regina is not yet guaranteed. A mistake in the free skate on Saturday could open the door for Weaver and Poje or Hubbell and Donohue. At the 2014 Olympic Winter Games in Sochi, Virtue and Moir struggled with their twizzles and had to settle for silver in the team competition as well as the ice dance event.
Another Canadian leads after the short program. Kaetlyn Osmond of Marystown, Newfoundland posted a score of 76.06 points to lead the women's competition. She has 6.01 more points than Russian Anna Pogorilaya who is in second place with 69.05 points.