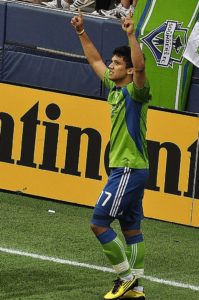 The Vancouver Whitecaps made franchise history on Wednesday by winning their first ever playoff game in Major League Soccer history. The Whitecaps won their game in dominant fashion as they defeated the San Jose Earthquakes 5-0 in the Western Conference knockout round.
Now it should be noted that Vancouver have a very rich soccer history. In 1979, the Whitecaps won the North American Soccer League championship when they beat the Tampa Bay Rowdies 2-1 to win the Soccer Bowl at Giants Stadium in East Rutherford, New Jersey. Vancouver was part of the NASL from 1974 to 1984, the Canadian Soccer League from 1987 to 1992, the American Professional Soccer League from 1993 to 1994, the A-League from 1995 to 1996, the United Systems of Independent Soccer Leagues from 1997 to 1998, the United Soccer League from 1999 to 2009 and the United States Soccer Federation in 2010.
In addition to winning the 1979 Soccer Bowl, Vancouver's soccer team, the 86ers won four straight Canadian Soccer League championships from 1988 to 1991. The Whitecaps have been part of the MLS since 2011.
On Wednesday, the Whitecaps got two goals from Uruguay midfielder Nicolas Mezquida, and single goals from Colombia forward Fredy Montero, Uruguay midfielder Cristian Techera and Costa Rican defender Kendall Waston. Vancouver will now play host to the Seattle Sounders in the first game of a two-game total point series on Sunday in the Western Conference semi-finals. In the East, Toronto FC will play the New York Red Bulls on Sunday.