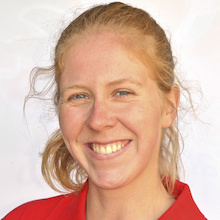 Laurence Vincent-Lapointe of Trois-Rivieres, Quebec won the gold medal on Sunday in the women's 200m canoeing competition at the 2017 International Canoe Federation Canoe Sprint World Championships in Racice, Czech Republic. For Vincent-Lapointe it was her second gold medal at the 2017 World Championship, as she also won a gold medal with Katie Vincent of Mississauga, Ontario, in the women's 500m pairs canoeing competition on Saturday. Both events that Vincent-Lapointe won a gold medal in at Racice will be a full medal event at the 2020 Olympic Games in Tokyo. 
Vincent-Lapointe posted a winning time in Racice of 45.478 seconds. Olesia Romasenko of Russia won the silver medal with a time of 46.136 seconds. Kincso Takacs of Hungary won the bronze medal with a time of 47.178 seconds.
Vincent-Lapointe earned a podium spot by 1.884 seconds. Alena Nazdrova of Belarus finished in fourth place with a time of 47.362 seconds.
Prior to Racice, Vincent-Lapointe also won the gold medal in the women's 200m canoeing competition at the 2010 World Championship in Poznan, Poland, the 2011 World Championship in Szeged, Hungary, the 2013 World Championship in Duisburg, Hungary and the 2014 World Championship in Moscow. It is Vincent-Lapointe's eighth gold medal at the World Championship overall as she has won three gold medals in the women's C2 500m.