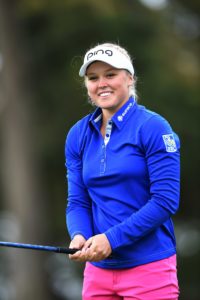 Brooke Henderson has got herself back into contention at the 2017 Canadian Pacific Women's Open. The native of Smiths Falls, Ontario set a course record in the third round at the Ottawa Hunt and Golf Club on Saturday when she shot an eight under par 63. She moved from one over par to seven under par.
Henderson had eight birdies and zero bogeys in her historic round. She birdied the second, third, sixth, eighth, 12th, 14th, 17th and 18th holes.
Nicole Broch Larsen of Denmark and 2014 Women's British Open champion Mo Martin of the United States are tied for the lead at -10. The 2015 U.S. Women's Open champion and 2016 Evian Masters winner In-gee Chun of South Korea is only one shot back of the lead at -9. Mirim Lee of South Korea and Cristie Kerr of the United States are two strokes back at -8. Like Chun, Kerr is a two-time major winner as she won the 2007 U.S. Women's Open and the 2010 Women's PGA Championship. Tied with Henderson at -7 are Mi Jung Hur and So Yeon Ryu of South Korea, Shanshan Feng of China and Marina Alex and Stacy Lewis of the United States.
Ryu won the 2011 U.S. Women's Open and 2017 ANA Inspiration. Feng won the 2012 Women's PGA Championship. Lewis won the 2011 ANA Inspiration and the 2013 British Women's Open. Like Feng, Henderson has one major title under her name as she won the 2016 Women's PGA Championship.