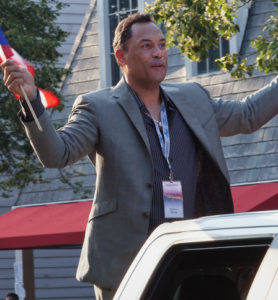 In a recent Sportsnet poll unveiled on Sunday, baseball hall of famer Roberto Alomar was recognized as the greatest Toronto Blue Jays player in history. Alomar played for the Blue Jays from 1991 to 1995, and during that time displayed outstanding excellent offensive numbers, but was even better defensively as he was one of the best second basemen to ever play Major League Baseball.
In each of Alomar's five years in Toronto he was an all-star and gold glove winner. In 2706 at bats, Alomar batted .307 with 55 home runs and 342 runs batted in. He scored 451 runs, and collected 832 hits, 152 doubles, 36 triples, 322 walks and a slugging percentage of .451. Defensively, the quality of plays he made at second base were beyond belief. In 1992, Alomar only made five errors in 150 games.
A native of Ponce, Puerto Rico, who has since become a Canadian citizen, Alomar was involved in a blockbuster trade between the Blue Jays and San Diego Padres on December 5, 1990. The Blue Jays traded shortstop Tony Fernandez and first baseman Fred McGriff to the Padres for Alomar and outfielder Joe Carter.
One could argue that Alomar and Carter would go on to hit two of the most dramatic home runs in franchise history. Alomar's home run was a game tying ninth inning home run in game four of the 1992 American League Championship Series in the Blue Jays' 7-6 win over the Oakland Athletics. Carter's home run was a walk off home run in game six of the 1993 World Series in the Blue Jays' 8-6 win over the Philadelphia Phillies.
Alomar was inducted into the Major League Baseball Hall of Fame in 2011. Even though there are six Hall of Famers who either played for the Blue Jays, or in Pat Gillick's case entered as a builder, Alomar is the only player who entered Cooperstown as a member of the Blue Jays.