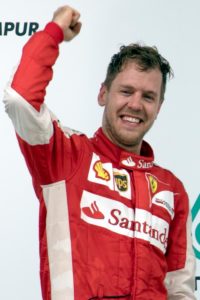 Sebastian Vettel of Germany won the 2018 Canadian Grand Prix from Montreal, Quebec on Sunday. It was a wire-to-wire victory for Vessel, who began the race in the pole position and was never really tested throughout the competition. Valtteri Bottas of Finland was second and Max Verstappen of the Netherlands was third.
It was Vettel's fourth victory of the season. He previously won the Bahrain Grand Prix on April 8 from Sakhir, the Chinese Grand Prix on April 15 from Shanghai and the Azerbaijan Grand Prix on April 29 from Baku.
With the win, Vettel moved into first place in the 2018 World Drivers Championship Standings for Formula One. He has a one point lead over Lewis Hamilton of Great Britain.
It was Vettel's second Canadian Grand Prix title. He previously won in 2013. However at that time Vettel was with Red Bull-Renault. Vettel became the first Ferrari driver since Michael Schumacher in 2004 to win the Canadian Grand Prix.
Schumacher and Vettel are the only two Germans to win the Canadian Grand Prix. Schumacher won a record seven times in 1994, 1997, 1998, 2000, 2002, 2003 and 2004.
It was a tough race for the lone Canadian–Lance Stroll of Montreal, Quebec. Stroll crashed with Brendon Hartley of New Zealand on the opening lap and had to retire.
The 2018 Canadian Grand Prix will also be known as a race that went only 68 official laps instead of 70. That is because Canadian supermodel Winnie Harlow of Toronto, Ontario waved the chequered flag with two laps left instead of one. The results of the final two laps did not count, but at the end of the day it did not completely matter as Vettel was the dominant driver throughout the competition.