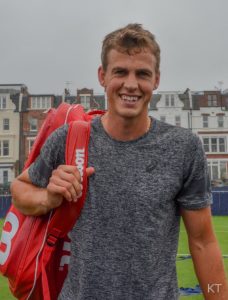 Vasek Pospisil of Vernon, British Columbia won an all-Canadian matchup in the first round of the Erste Bank Vienna Open tennis tournament in Austria on Wednesday. Pospisil, who entered the tournament as a qualifier, defeated Felix Auger-Aliassime of Montreal, Quebec in straight sets, 7-5, 7-5.
Pospisil won 83% of his points on his first serve and was able to break Auger-Aliassime three times. It was the first time in Pospisil's career he has defeated Auger Aliassime as he lost to him before in the first round of Indian Wells in 2018, Wimbledon in 2019, and the Rogers Cup in Montreal in 2019.
Pospisil's victory over Auger-Aliassime on Wednesday was considered an upset. Pospisil was ranked 81st in the world heading into the Vienna Open, while Auger-Aliassime was ranked 21st.
This was the fourth time this season that Pospisil has faced a Canadian. He lost to Denis Shapovalov 6-4, 7-6 in the second round of the Auckland Open in January leading up to the Australian Open, and then beat Shapovalov 6-2, 6-3 in the second round of the Montpellier Open. Then in September, Pospisil stunned Milos Raonic 6-7, 6-3, 7-6, 6-3 in the second round of the U.S. Open.
On Thursday in the second round of the Erste Bank Vienna Open, Pospisil will face fourth-ranked Daniil Medvedev of Russia, the 2019 U.S. Open finalist. Head-to-head Pospisil and Medvedev have beaten each other once. Medvedev beat Pospisil in the third round of the Shanghai Masters in 2019, 7-6, 7-5, and then Pospisil beat Medvedev in the first round of Rotterdam, 6-4, 6-3, back in February.