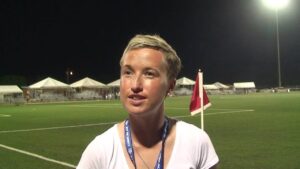 According to Signa Butler of CBC Sports on Wednesday, Bev Priestman of Consett, England has been named the head coach of the Canadian National Women's Soccer Team. This is a critical time for the team as it prepares for the 2020 Olympic Games in Tokyo in 2021. Priestman takes over from Kenneth Heiner-Moller, who joined the Danish Football Association.
Priestman spent the last two years as the assistant head coach of the England Women's National Team. Also during this time, Priestman was the head coach of England's under-17 and under-18 national teams.
However, this is her second time as an employee of Soccer Canada. From 2013 to 2018 Priestman was the Canadian Women's Excel Director for players between the ages of 15 and 23, and the assistant coach of the Canadian National Women's Soccer Team while John Herdman was the head coach. Like Priestman, Herdman is also from Consett, England. In addition to her duties as the Women's Excel Director, Priestman was the Canadian head coach of the women's under-17 and under-20 teams.
Butler reported as well that many people expected that Priestman would be the next head coach of the English National Women's Soccer Team when former English men's national team player and superstar Phil Neville resigned in April. However, England decided to go with Sarina Wiegman of the Netherlands instead.
The hiring of Priestman is interesting as she is only 34. Priestman is in fact three years younger than Canadian women's soccer team icon Christine Sinclair of Burnaby, British Columbia. It will be interesting to see the similarities when it comes to tactics between Priestman and Herdman, or if there are any differences.