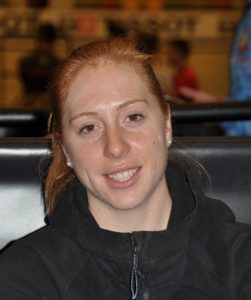 Over the last decade, one of Canada's top female track cyclists has been Allison Beveridge of Calgary, Alberta. An Olympic bronze medalist in women's team pursuit from the 2016 Olympic Games in Rio de Janeiro, Beveridge now has her sights set on the 2020 Olympic Games in Tokyo in 2021. Here is my interview with Beveridge as she prepares for high-performance cycling, whenever that may be.
Q: The Olympic Games were to take place in 2020. Now they have been delayed until at least 2021.  Talk about some of the challenges you have faced recently from a mental and physical perspective.
A: "There's a lot going on in the world, and you can take a step back and put it all into perspective pretty quickly. A lot is happening with COVID. When you are in the moment and living day by day, I think the biggest setback is mental. Everyone (was) gearing up for the final few months, and the last big push toward the Games.
We have had a bit of time to take a step back, reset, and do some cross-training. We are doing what we can do to stay fit, but not necessarily a lot of specific work. When we are ready, kind of reset, and do a final big push, we will be ready. I think that will give us a little bit of an advantage compared to those who tried to drag it all the way through. You just cannot turn three months into 16 months."
Q: Looking back at your bronze medal in the women's team pursuit at the 2016 Olympic Games in Rio de Janeiro, what are you the most proud of?
A: "I think in Rio, to be honest, we overcame kind of two not great rides in qualifying, and round one. We had just not figured out what we had on the day yet. I think our final ride, was the ride we put together and was the ride we had a time we were really happy with. (A time of 4:14.627 to beat New Zealand). We merged everything that we had on that day, and put a ride together that we were proud of, and as well getting the medal. I think it was something we overcame pretty well and worked towards. Nothing goes to plan really, but there were more ups and downs than I would have liked."
Q: In 2016, you were one of the youngsters on the Canadian Olympic team. Now in 2020, you could be considered one of the veterans. Discuss the challenges of being in a leadership role.
A: "Yeah, it's funny. I think I am still one of the younger cyclists on the team. (Second youngest, only older than Ariane Bonhomme).  I am just not the youngest anymore. It's all been interesting because I have probably been in the sport longer than a lot of them, and yet age-wise, a bit younger. Not all that much has changed. (In the pursuit), two of the girls who were on the start line with me in Rio, Jasmin Glaesser, (who is now Jasmin Duehring), and Georgia Simmerling, will still be there. Annie Foreman-Mackey is our alternate. The dynamic has been pretty similar. I just think I will try to become a little bit more assured in kind of my own self and hope that experience under my belt passes on to the team."
Q: The event of Madison will make its Olympic debut in 2021. What can you tell us about Madison and your memories of winning the gold medal in the event at the 2017 Pan American Championships in Balmain, Trinidad and Tobago?
A: "Yeah, that was a really cool moment, and is definitely kind of a new event. It is an event where the men have been doing for years and years, and the women have finally been given the opportunity to explore. It is a crazy race with a lot of learning moments. However. It is a real, fun race. There is going to be a lot that is played out in Tokyo. It is going to be interesting to sit back and watch. It is kind of too bad we will not have a team lined up there. Just having the event lined up at the games is pretty special. It will be fun to see what happens in it."
Q: What was your most memorable moment from winning the four medals at the Track Cycling World Championships from 2014 to 2016?
A: "My most memorable moment came in 2014 (in Cali, Colombia). It was my first World Championship with the team, and I was pretty new to the team. I was in the deep end a little, and I was getting out of my depth. The girls were great. It opened the door to the rest of my cycling career. It definitely made me the rider who I am today. It definitely left me wanting more and wanting to contribute more (won a silver medal in the women's team pursuit)."
Q: The most dominant teams at the moment in women's track pursuit cycling are Great Britain, Australia, and New Zealand. What will Canada need to do in order to reach the podium in the team pursuit at the 2020 Olympic Games in Tokyo in 2021?
A: "It is interesting. I would include Germany in there and a few others. The women's team pursuit has gone to having quite a bit of depth, and I think you are closer to fifth and sixth than before, and I think you are closer to the top than before. I think time wise it is going to be tight. It is going to come down to who rides the best on the day. It is exciting. We have the potential to walk away with the gold medal. We sat down this fall after a few World Cups that did not go very well, really refocused, and really figured out kind of what we had to do, to be the athletes and the team we needed to be. (At the 2019 Track Cycling World Championships in Pruszkow, Poland), we did not put it together in a few of the rides. There are a lot of pieces, and there are a lot of ifs and buts, but I think we have done a great job in refocusing ourselves for 2021."
Q: What are your Olympic goals, whenever they might take place?
A: "You have to prepare to think that the Olympic Games will be in 2021. I just think we want to put together rides that we want to be proud of, and go out and have the race we can. I think if we do that, we will be in the mix. I think we have the potential with this team. I think our team is stronger than Rio. We have had an opportunity to spend a little more time together. We have made changes that we think we needed. I think if we do that, and focus on what we can do, I expect a fair bit from us. We will see."
Q: What is it like to see Canada qualify for the men's team pursuit in cycling at the Olympic Games for the first time since 1984?
A: "It is pretty amazing. When I was at the 2014 World Championships and the 2016 Olympic Games, there was only one male track cyclist in Hugo (Houle). To have a full man team pursuit, it is so much more fun going to races. You wish the best for them, and what they do brings out the best in the team. It is a second family. They are all really, really good guys. We have seen them come so far after the last two years, and fight for everything. It is really exciting to have them there. They really deserve it. They really do."