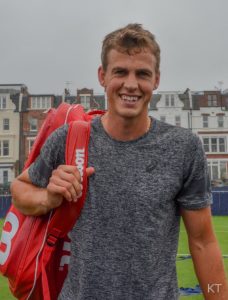 Vasek Pospisil of Vernon, British Columbia came away with his second impressive win of 2018 on Monday in the first round of the 2019 Shanghai Masters. Six weeks after shocking ninth ranked Karen Khachanov of Russia in the first round of the 2019 United States Open 4-6, 7-5, 7-5, 4-6, 6-3, Pospisil came through with a straight set 7-6, 6-2 win over Diego Schwartzman of Argentina in his opening match of the second last Masters 1000 Series tennis event of 2018.
Pospisil beat Schwartzman in one hour and 24 minutes. It was the second time in Pospisil's career he has beaten Schwartzman. Pospsil previously beat Schwartzman 2-6, 6-3, 7-6 in the first round of the Miami Open.
A major reason why Pospisil came through with the straight set win over Schwartzman in Shanghai was because of his serve. Pospisil had 11 aces compared to Schwartzman's two.
Pospisil continued his success in Shanghai on Tuesday with a 6-3, 7-5 win over Joao Sousa of Portugal in the second round in Shanghai. Pospisil once again was firing aces as he had 15 aces compared to Sousa's two.
There are three Canadians left in the Shanghai Masters draw. Felix Auger-Aliassime of Montreal, Quebec beat Alexander Bublik of Kazakhstan 7-6, 4-0 in the first round and Denis Shapovalov of Toronto, Ontario beat Frances Tiafoe of the United States 6-4, 6-2 in the first round.
Pospisil, Shapovalov and Auger-Aliassime will have tough tests in their next matches. In the second round, Shapovalov faces 16-time grand slam singles champion and top seed Novak Djokovic of Serbia. Djokovic is red hot at the moment as he just beat John Millman of Australia 6-3, 6-2 in the final of the 2019 Japan Open from Tokyo. Also in the second round, Auger-Aliassime will face sixth ranked Stefanos Tsitsipas of Greece. Then in the third round, Pospisil will face third ranked Daniil Medvedev of Russia.