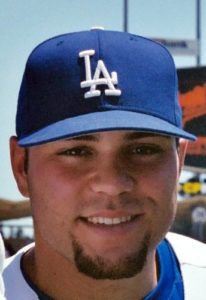 The Atlanta Braves and Los Angeles Dodgers took commanding two games to one leads on Sunday in the National League Divisional Series. However it was the performances of two Canadians that deserve significant recognition.
In the Braves' game three win over the St. Louis Cardinals from Busch Stadium on Sunday, Braves starting pitcher Mike Soroka of Calgary, Alberta had a quality start. Soroka pitched seven innings, had seven strikeouts and gave up only two hits and one earned run as the Braves beat the Cardinals 3-1. However even though Soroka had a quality start, he did not pick up the win. That is because the Braves were trailing 1-0 to the Cardinals heading into the ninth inning when they scored their three runs with two out.
Then in the Dodgers' game three 10-4 win over the Washington Nationals from Nationals Park on Sunday, Dodgers catcher Russell Martin of East York, Ontario had a pair of extra base hits. Martin, who was batting eighth in the Dodgers lineup, hit a double in the sixth inning, which scored Cody Bellinger and David Freese, and put the Dodgers up 3-2 at the time. Then in the ninth inning, Martin hit a two run home run that scored Freese and put the Dodgers up 10-4.
The Braves and Dodgers can win their National League Divisional Series on Monday. Atlanta leads St. Louis 2-1 and Los Angeles leads Washington 2-1.