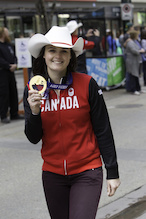 There is a strong possibility that Canadian Olympic gold medalist Marielle Thompson of Vancouver, British Columbia will not be competing in women's ski cross at the 2018 Olympic Winter Games in Pyeongchang.  That is because Thompson ruptured her anterior cruciate ligament and injured her medial collateral ligament while training in Saas Fee, Switzerland this past week.
Thompson was a strong gold medal contender in women's ski cross. She won the gold medal for Canada in women's ski cross at the 2014 Olympic Winter Games in Sochi, has 20 World Cup victories and won the silver medal in women's ski cross at the 2013 International Ski Federation Freestyle World Ski Championships in Voss, Norway.
There is still a possibility that Thompson could be ready, and it will be very interesting to see just how fast she is able to heal. However those chances are unlikely because injuries to your anterior cruciate ligament or medial collateral ligament normally have a six month recovery time and the Olympic Winter Games are less than four months away.
The biggest beneficiaries of Thompson's absence are reigning world championship gold medalist Sandra Naeslund of Sweden, reigning silver medalist Fanny Smith of Switzerland and reigning world championship bronze medalist Ophelle David of France. Naeslund and Smith also finished second and third behind Thompson on the World Cup circuit last season, while David is a seven-time World Cup women's ski cross champion.