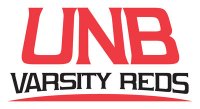 The University of New Brunswick Reds and the University of Guelph Gryphons are the 2019 Canadian University Sports hockey champions. In the men's gold medal game on Sunday, the Reds defeated the University of Alberta Golden Bears 4-2 at the Enmax Centre in Lethbridge, Alberta, and in the women's gold medal game on Sunday from the MacLauchlan Arena in Charlottetown, Prince Edward Island, the University of Guelph Gryphons beat the University of McGill Martlets 1-0.
In the men's gold medal game, Mark Rassell of Calgary, Alberta led the Reds in scoring with one goal and one assist for two points. In the women's gold medal game, the lone Gryphons goal scorer was Kaitlin Lowy of Toronto, Ontario, who scored with 1:45 left in the second period from Stephanie Gava of Mississauga, Ontario and Karli Shell of Lively, Ontario. Meanwhile, Valerie Lamenta of Montreal, Quebec recorded the shutout as she made 20 saves.
This was the first ever Canadian women's university hockey championship for the Gryphons, and the first time they have reached the championship game. Three times before a university from Ontario has won the championship. In 2001, the title went to the University of Toronto Lady Blues. In 2005, the winner was the University of Wilfrid Laurier Golden Hawks and in 2015, the University of Western Mustangs were victorious. On the men's side, the Reds won their eighth title. They are only behind the Golden Bears (16 wins) and the University of Toronto Varsity Blues (10 wins).