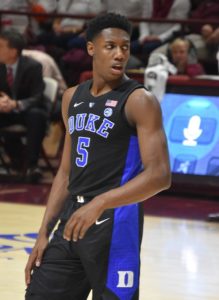 March Madness begins on Tuesday with two play-in games. Two more play-in games will then take place on Wednesday, with the majority of the teams who qualified for the American College Basketball Championship starting the tournament either Thursday or Friday. Here are nine Canadians to keep an eye on as the tournament begins.
R.J. Barrett–Duke Blue Devils–Mississauga, Ontario–Forward–Heading into the 2019 NBA Draft, the belief was that Zion Williamson would be the number one pick and Barrett would be the number two pick. However one cannot ignore the fact that Barrett has actually outscored Williamson this season by eight tenths of a point. That is right. Barrett has 22.9 points per game, while Williamson only has 22.1 points per game. Duke's first game is on March 22 at 5:10 p.m. MT against either North Central College or North Dakota State from Columbia, South Carolina. Seeded first in the East, the Blue Devils are the favourites to win the entire tournament. Barrett, meanwhile is not expected to be in the NCAA for long, as next year he could be a NBA All-Star.
Marial Shayok–Iowa State Cyclones–Ottawa, Ontario–Guard–In his fourth season at Iowa State, Shayok's offensive statistics significantly improved. He went from 8.9 points per game to 18.6 points per game and lead the Cyclones in scoring. Seeded sixth in the Midwest, the Cyclones will face Ohio State on March 22 at 7:50 p.m. MT from Tulsa, Oklahoma.
Nickeil Alexander-Walker–Virginia Tech Hokies–Toronto, Ontario–Forward–In 2018-19, this sophomore averaged 16.6 points per game to lead the Hokies. Virginia Tech is currently seeded fourth in the East and will play Saint Louis in the first round on March 22 at 7:40 p.m. MT from San Jose, California. Alexander-Walker is the cousin of Los Angeles Clippers starting point guard Shai Gilgeous-Alexander.
Brandon Clarke–Gonzaga Bulldogs–Vancouver, British Columbia–Forward–In 2018-19, Clarke was second in Bulldogs scoring with 16.5 points per game. However, Clarke is known for his defense. In averaging 8.4 rebounds per game and 3.1 blocks per game, Clarke was the West Coast Conference Defensive Player of the Year in 2019. This is Clarke's first season in Gonzaga after spending his last three seasons at San Jose State. The Bulldogs, seeded first in the West, will play the winner of Fairleigh Dickinson and Prairie View on March 21 at 5:27 p.m. MT from Salt Lake City, Utah.
Luguentz Dort–Arizona State Sun Devils–Montreal, Quebec–Guard–In 2018-19, Dort led the Sun Devils in scoring with 16.1 points per game. He also led ASU with 1.6 steals per game. The Sun Devils will be in the play-in game against St. John's University from Dayton, Ohio on March 20 at 7:10 p.m. MT. The winner will play the University of Buffalo in Tulsa, Oklahoma on March 22 at 2 p.m. MT.
Ignas Brazdeikis–Michigan Wolverines–Oakville, Ontario–Forward–In his freshman season, Brazdeikis led the Wolverines in scoring with 15.1 points per game and was the Big Ten Freshman of the Year. Seeded second in the West, the Wolverines begin their tournament on March 21 at 7:20 p.m. MT against the University of Montana from Des Moines, Iowa.
Mfiondu Kabengele–Florida State Seminoles–Burlington, Ontario–Forward–In his second season with the Seminoles, Kabengele led the team with 12.9 points per game. Seeded fourth in the West, the Seminoles will play the University of Vermont on March 21 at Noon MT from Hartford, Connecticut.
Oshae Brissett–Syracuse Orange–Toronto, Ontario–Forward–In 2018-19, Brissett decided to return to the Orange for his sophomore season, and this year has averaged 12.4 points per game and leads Syracuse with 7.5 rebounds per game. Seeded eighth in the West, the Orange will face a tough test against ninth seeded Baylor from Salt Lake City, Utah on March 21 at 8 p.m. MT.
Stef Smith–Vermont Catamounts–Ajax, Ontario–Guard–A sophomore, Smith averaged 12.3 points per game with the Catamounts and led the team with 0.9 steals per game in 2018-19. Seeded 13th in the West, Smith and the Catamounts will face Kabengele and the Seminoles on Thursday.