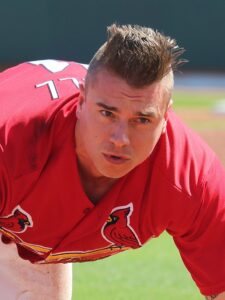 Tyler O'Neill of Burnaby, British Columbia won his second straight National League Gold Glove Award on Sunday. O'Neill, who played for the St. Louis Cardinals, was recognized for his exceptional play in the outfield. He had a fielding percentage of .962, as he committed only nine errors all season in 237 chances and 1105 innings of work.
It was an historic day for the Cardinals organization. A total of five Cardinals were recognized for their exceptional play defensively. Paul Goldschmidt was recognized at first base, Tommy Edman was recognized at second base, Nolan Arenado was recognized at third base, and Harrison Bader was recognized along with O'Neill in the Cardinals outfield. According to Mark Polishuk of mlbtraderumours.com, the Cardinals were the first team in Major League Baseball history to have five players win the Gold Glove Award in the same season.
O'Neill was recognized even though he committed nine errors. Last season, O'Neill committed zero errors in 89 chances in winning the National League Gold Glove Award for the first time. O'Neill has 14 errors in 264 games in his career.
There was one other Gold Glove Award winner in 2021 with a Canadian connection. In the American League, Marcus Semien of the Toronto Blue Jays was recognized at second base. This past season, Semien had a fielding percentage of .985.