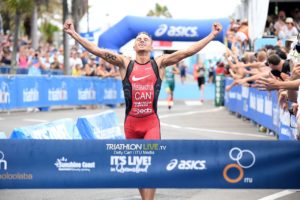 Tyler Mislawchuk of Oak Bluff, Manitoba won a gold medal on Sunday at a World Cup men's triathlon competition in Huatulco, Mexico. The gold medal for Mislawchuk came in the final Olympic men's qualifying event before the 2020 Olympic Games in Tokyo in 2021.
Mislawchuk won gold with a time of 53 minutes and nine seconds. Manoel Messias of Brazil won the silver medal with a time of 53 minutes and 21 seconds. Miguel Hidalgo of Brazil won the bronze medal with a time of 53 minutes and 22 seconds. Mislawchuk reached the podium by 16 seconds over David Nunez of Mexico, who was in fourth place with a time of 53 minutes and 25 seconds.
There is no doubt that Mislawchuk is reaching top form in men's triathlon leading up to the Olympic Games. The world's best triathletes have had a challenging time just having the opportunity to compete. That is because the 2020 World Triathlon Championship Finals in Edmonton were cancelled due to coronavirus.
Last year, there was only one event in the World Triathlon Championship Series, and it was won by Luis Vincent of France. Mislawchuk did not compete. In 2021, there have been two World Triathlon Championship Series events. Kristian Blummenfelt of Norway won in Yokohama, Japan on May 15, and Alex Yee of Great Britain won in Leeds, England on June 6. Mislawchuk did not compete in those events either.