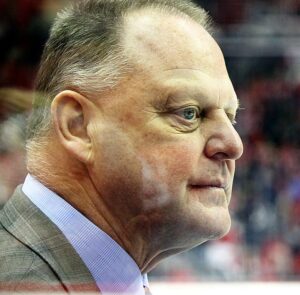 The New York Rangers have named Gerard Gallant of Summerside, Prince Edward Island as their new head coach according to Shane Ross of CBC News. This will be Gallant's fourth National Hockey League assignment as he previously coached the Columbus Blue Jackets, Florida Panthers, and Vegas Golden Knights.
Gallant's most recent achievement was coaching Team Canada to a gold medal at the 2021 World Men's Hockey Championship in Riga, Latvia. Canada got off to a horrendous start at zero wins, and three losses, but stormed back to take the title. Gallant's most notable adjustment was an easy one. That was putting Calgary Flames forward Andrew Mangiapane into the lineup after he arrived to Latvia late. The reason for Mangiapane's lateness is because the Flames had to end their 2020-21 National Hockey League regular season rather late because of a coronavirus outbreak among the Vancouver Canucks.
Gallant's finest accomplishment as a NHL head coach came with the Golden Knights. In three seasons there, he posted a record of 118 wins, 75 regulation losses, and 20 losses in extra time. Gallant also won a Memorial Cup with the Saint John Sea Dogs in 2011.
As a player, Gallant played 11 seasons in the NHL at left wing with the Detroit Red Wings and Tampa Bay Lightning from 1984 to 1995. He had 211 goals and 269 assists for 480 points in 615 games.