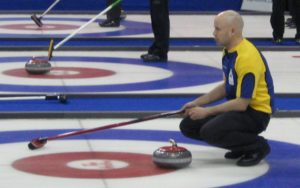 Heading into the final day of the championship round at the 2021 Tim Hortons Brier in Calgary, a pair of wildcard teams are tied for the lead at eight wins and two losses. They are Kevin Koe's second-ranked wildcard team out of Calgary, Alberta, and Wayne Middaugh's first-ranked wildcard team out of Brampton, Ontario.
On Friday, Middaugh came through with an impressive 9-5 win over Saskatchewan's Matt Dunstone before losing 10-8 to Ontario's John Epping. Middaugh got off to a fantastic start with four points in the third end to take a 4-1 lead on Dunstone, and then got off to a great start against Epping with three points in the first end. However, Epping bounced back by scoring four points in the fourth end and three points in the sixth end.
Koe meanwhile lost 8-7 in 11 ends to beat Brendan Bottcher of Edmonton in an all-Alberta battle, before beating Canadian Olympic gold medalist Brad Jacobs of Sault Ste. Marie, Ontario 8-5. Koe made a huge shot in the 10th end to score four points.
There is currently a four-way tie for third between Dunstone, Bottcher, Epping, and Canadian Olympic gold medalist Brad Gushue of St. John's, Newfoundland at 6-3. Gushue came through with a dominant 12-2 win over Manitoba's Jason Gunnlaugson thanks to seven straight points on steals.