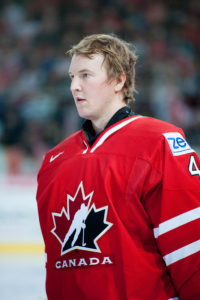 Devan Dubnyk of Regina, Saskatchewan notched his 33rd career shutout on Friday. The San Jose Sharks netminder made 34 saves as the Sharks defeated the Arizona Coyotes 6-0 from the Honda Center in Anaheim, California.
Dubnyk made 11 saves in the first period, 16 saves in the second period, and seven saves in the third period. Rickard Rakell of Sundyberg, Sweden had seven shots on goal to lead the Ducks.
Offensively for the Sharks in the game, they were clicking on all cylinders for their most impressive game of the season. Kevin Labanc led the Sharks in scoring with three points, as he notched one goal and two assists. Two Canadians on the Sharks had multi-point games as Evander Kane of Vancouver, British Columbia had one goal and one assist for two points, while Brent Burns of Barrie, Ontario had two assists.
Dubnyk now has three wins, five regulation losses and two losses in extra time this season. He has a goals against average of 3.03, and a save percentage of .904.
This was Dubnyk's first shutout with the Sharks. He previously has had 23 shutouts with the Minnesota Wild, eight shutouts with the Edmonton Oilers, and one shutout with the Arizona Coyotes.
The six-goal outburst and the shutout for the Sharks could be considered a surprise. That is because they have scored 62 goals (the fewest in the West Division) and given up 92 goals (the most against in the West Division).