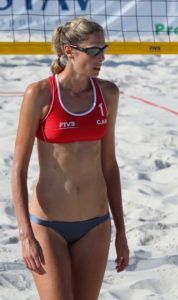 Canadian women's beach volleyball world champions Sarah Pavan of Kitchener, Ontario and Melissa Humana-Paredes of Toronto, Ontario won the silver medal at the Katara Beach Volleyball Cup in Qatar on Friday according to the Beach Volleyball World Tour. Pavan and Humana-Paredes lost the gold medal game to April Ross and Alexandra Klineman of the United States, 22-20, 21-18.
Pavan and Humana-Paredes had a perfect record of two wins and zero losses in Pool A. They defeated Esmee Bogner and Zoe Verge-Depre of Switzerland 21-14, 21-16, as well as a three-set win over Kelly Claes and Sarah Sponcil of the United States by a score of 24-22, 18-21, 16-14.
By winning both games in Pool A, Pavan and Humana-Paredes got a bye to the second round of the playoffs. There they beat Heather Bansley of London, Ontario and Brandie Wilkerson of Toronto, Ontario 18-21, 21-18, 15-9 in an all-Canadian battle. From there, Pavan and Humana-Paredes beat Nadezda Makroguzova and Svetlana Kholomina of Russia 22-20, 24-26, 15-9 in the quarterfinals, and Agatha Bednarczuk and Duda Santos of Brazil 24-22, 26-24 in the semifinals. Agatha and Duda then beat Emily Stockman and Kelley Kolinske of the United States 21-13, 21-14 to win the bronze medal. The silver medal for Pavan and Humana-Paredes will give them confidence as they prepare for the 2020 Olympic Games in Tokyo in 2021.