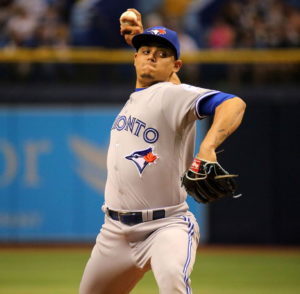 The Toronto Blue Jays will be represented by two players at the 2017 Major League Baseball All-Star Game which takes place Tuesday evening from Miami. Representing the American League will be Blue Jays first baseman Justin Smoak of Goose Creek, South Carolina and closing pitcher Roberto Osuna of Juan Jose Rios, Mexico.
Blue Jays fans will have a chance to forget about a horrible performance by their team on Sunday when they lost 19-1 to the Houston Astros (the fourth biggest loss in Toronto's franchise history). That is because the All-Star Break means the Blue Jays won't actually play again until Friday.
In the meantime, Toronto baseball fans can celebrate Smoak and Osuna's first half success. Where Smoak has made significant improvements this year is in his plate protection. After striking out 112 times in 299 at bats last year, he has dropped his strikeout total to only 64 in the same number of at bats in 2017. Smoak has also seen his batting average rise from .217 to .294, and his 23 home runs is already a career high. He will not only be representing the American League, but will be batting sixth in the order and starting on first base.
Osuna meanwhile is having a career year on the mound. He has seen his earned run average drop from 2.68 to 2.06 and has only given up eight earned runs in 35 innings of work. His 22 saves is also the fourth most in the American League–not bad for a last place ball club.