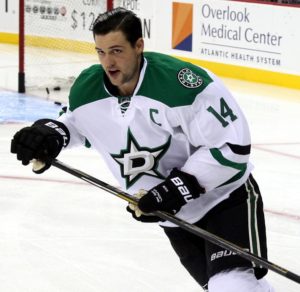 As the participants of the 2020 Stanley Cup Finals have been determined, there will be 20 Canadian players at Rogers Arena in Edmonton, Alberta. There will be 11 Canadians on the Tampa Bay Lightning and nine Canadians on the Dallas Stars.
The Canadians on the Lightning are centre Brayden Point and defenseman Brayden Coburn of Calgary, Alberta, centre Yanni Gourde of Saint-Narcisse-de-Beaurivage, Quebec, centre Alex Killorn of Halifax, Nova Scotia, centre Anthony Cirelli of Woodbridge, Ontario, right winger Barclay Goodrow of Toronto, Ontario, centre Cedric Paquette of Gaspe, Quebec, centre Steven Stamkos of Markham, Ontario, defenseman Luke Schenn of Saskatoon, Saskatchewan, centre Carter Verhaeghe of Hamilton, Ontario, and centre Mitchell Stephens of Peterborough, Ontario. Point is the Lightning co-leader in goals with nine. He is tied with defenseman Victor Hedman. Point also has 16 assists and 25 points in the playoffs to date. Killorn meanwhile is the co-leader for the Lightning in the playoffs in power play goals with two. He is tied with Hedman and Ondrej Palat.
The Canadians on the Stars are Canadian Olympic gold medalists Jamie Benn of Victoria, British Columbia (left winger), and Corey Perry of Peterborough, Ontario (right winger), defenseman Jamie Oleksiak of Toronto, Ontario, centre Tyler Seguin of Brampton, Ontario, centre Blake Comeau of Meadow Lake, Saskatchewan, centre Jason Dickinson of Georgetown, Ontario, centre Andrew Cogliano of Toronto, Ontario, defenseman Joel Hanley of Keswick, Ontario, and defenseman Taylor Fedun of Edmonton, Alberta. Oleksiak is tied for the Stars in plus/minus at +5 alongside Joel Kiviranta. Benn, who has eight goals and 10 assists for 18 points, leads the Stars in shorthanded goals (one), shots on goal (57), and is tied with Radek Faksa in power play goals (three).
Benn and Perry each won a gold medal for Canada at the 2014 Olympic Winter Games in Sochi. Perry also won a gold medal for Canada at the 2010 Olympic Winter Games in Vancouver.