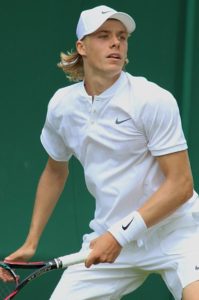 Denis Shapovalov of Toronto, Ontario has reached the quarterfinals of the 2020 Italian Open in Rome. Ranked 12th at the only Tennis Masters 1000 Series event on clay leading up to the French Open, Shapovalov has received a favourable draw to date, and now finds himself in the final eight, just like he did at the United States Open earlier this month.
Shapovalov defeated Ugo Humbert of France 6-7, 6-1, 6-4 in the third round on Friday. Humbert was able to upset Fabio Fognini of Italy, the seventh seed in the second round on Thursday, 7-5, 7-6. Fognini is a clay court specialist as he won the 2019 Monte Carlo Masters, but is just returning from surgery on both of his ankles.
In addition to beating Humbert, Shapovalov beat Guido Pella of Argentina 6-2, 6-3 in the first round, and Pedro Martinez of Spain 6-4, 6-4 in the second round. He will next play Grigor Dimitrov of Bulgaria in the quarterfinals on Saturday.
This will be the third meeting between Shapovalov and Dimitrov. In the first two meetings, Dimitrov has come away victorious. Their first meeting came in Canada, in the second round of the 2016 Rogers Cup in Toronto, with Dimitrov winning 6-4, 6-3. Then, Dimitrov beat Shapovalov in the first round of Rotterdam, 6-3, 7-6.