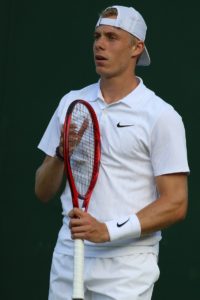 Denis Shapovalov is in the semifinals of the 2020 Italian Open in Rome. On Saturday, Shapovalov won his quarterfinal singles match as he defeated Grigor Dimitrov of Bulgaria 6-2, 3-6, 6-2.
Seeded 12th, Shapovalov won 80% of his first serve points and broke Dimitrov five times. It was the first time that Shapovalov has beaten Dimitrov in his career, as he lost to him previously in the second round of the 2016 Rogers Cup in Toronto, and the fist round of the 2020 Rotterdam Open.
With the win, Shapovalov remains undefeated in quarterfinal matches in ATP Masters 1000 series events. He has a perfect record of five wins and zero losses. His previous wins came over Rafael Nadal of Spain at the 2017 Rogers Cup, Kyle Edmund of Great Britain at the 2018 Madrid Open, Frances Tiafoe of the United States at the 2019 Miami Open and over Gael Monfils of France at the 2020 Paris Masters. The win over Nadal is the reason why Shapovalov won the 2017 Lionel Conacher Award as the Canadian male athlete of the year.
Speaking of Nadal, he was supposed to be Shapovalov's opponent on Sunday for the semifinals. However the King of Clay was upset by Diego Schwartzman of Argentina 6-2, 7-5 in another quarterfinal match. Shapovalov has never faced Schwartzman in his career.