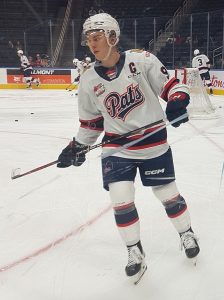 The 2023 National Hockey League Entry Draft took place on Wednesday in Nashville with 12 Canadians being selected in the first round. It was zero surprise who came number one.
The dozen were centre Connor Bedard of North Vancouver, British Columbia and the Regina Pats of the Western Hockey League (first overall by the Chicago Blackhawks), centre Adam Fantilli of Nobleton, Ontario and the University of Michigan of the National Collegiate Athletic Association (third overall by the Columbus Blue Jackets), centre Nate Danielson of Red Deer, Alberta and the Brandon Wheat Kings of the WHL (ninth overall by the Detroit Red Wings), left winger Zach Benson of Langley, British Columbia and the Wenatchee Wild of the WHL (13th overall by the Buffalo Sabres), centre Brayden Yager of Saskatoon, Saskatchewan and the Moose Jaw Warriors of the WHL (14th overall by the Moose Jaw Warriors), left winger Matthew Wood of Lethbridge, Alberta and the University of Connecticut Huskies of the NCAA (15th overall by the Nashville Predators), left winger Colby Barlow of Orillia, Ontario and the Owen Sound Attack of the Ontario Hockey League (18th overall by the Winnipeg Jets), defenseman Oliver Bonk of Ottawa, Ontario and the London Knights of the OHL (22nd overall by the Philadelphia Flyers), defenseman Tanner Molendyk of Kamloops, British Columbia and the Saskatoon Blades of the WHL (24th overall by the Predators), centre Calum Ritchie of Brampton, Ontario and the Oshawa Generals of the OHL (27th overall by the Colorado Avalanche), right winger Easton Cowan of Strathroy, Ontario and the London Knights of the OHL (28th overall by the London Knights), and left winger Bradley Nadeau of St-Francois de Madawaska, New Brunswick and the Penticton Vees of the British Columbia Hockey League (30th overall by the Carolina Hurricanes).
Bedard, one could argue, is the best prospect to ever come from the Western Hockey League. He became the first player ever to win the Canadian Hockey League Top Prospect Awards, the Top Scorer Award and the David Branch Player of the Year Award in the same season.