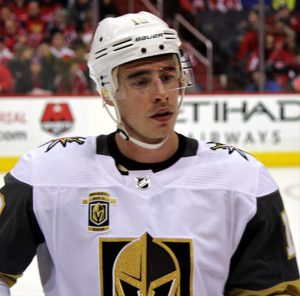 According to TSN on Wednesday, the Vegas Golden Knights have traded right winger Reilly Smith of Mimico, Ontario to the Pittsburgh Penguins for a third round draft pick in the 2024 National Hockey League Entry Draft. The Penguins are Smith's fifth NHL team following two seasons with the Dallas Stars (2011 to 2013), two seasons with the Boston Bruins (2013 t0 2015), two seasons with the Florida Panthers (2015 to 2017), and six seasons with the Vegas Golden Knights (2017 to 2023).
In 2022-23, Smith had 26 goals and 30 assists for 56 points in 78 games. He was a +11 with 16 penalty minutes, 10 power-play points, four shorthanded goals, four game-winning goals, 180 shots on goal, four faceoff wins, 32 blocked shots, 69 hits, 30 takeaways, and 38 giveaways.
Smith was also on the Golden Knights team that won their first Stanley Cup in franchise history. In 22 postseason games over the last three months, he had four goals and 10 assists for 14 points.
Smith's finest regular season came in his first year with Vegas, in 2017-18. He had career-highs in assists (38), points (60), plus/minus (+31), and power-play goals (seven). The Golden Knights also went to the Stanley Cup Finals that year before losing to Washington. In 764 games, Smith had 200 goals and 273 assists for 473 points. He was a +124 with 192 penalty minutes, 102 power-play points, 22 shorthanded points, 28 game-winning goals, 1621 shots on goal, 29 faceoff wins, 294 blocked shots, 619 hits, 442 takeaways, and 400 giveaways.