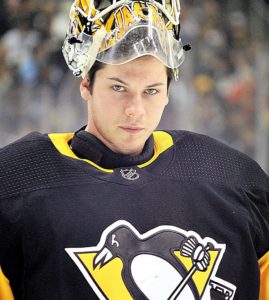 Pittsburgh Penguins goaltender Tristan Jarry of Surrey, British Columbia recorded his 16th career National Hockey League shutout on Saturday. He accomplished the feat in a 4-0 Penguins win over the Buffalo Sabres at PPG Paints Arena in Pittsburgh, Pennsylvania.
Jarry made 35 saves overall. He made 14 saves in the first period, 11 saves in the second period, and 10 saves in the third period. Jeff Skinner of Toronto, Ontario led the Sabres with five shots on net.
Offensively, it was a strong game for Penguins defenseman Ryan Graves of Yarmouth, Nova Scotia, as he led the team with two points. Both of his points were assists.
Jarry now leads the NHL this season in shutouts with three. His other shutouts were in a 4-0 Penguins win over the Washington Capitals on October 13 and in a 4-0 Penguins win over the Colorado Avalanche on October 26.
In 2023-24, Jarry has a record of five wins and five losses, with a goals against average of 2.23 and a save percentage of .920. Fascinatingly, three of Jarry's five wins have been shutouts so far.
The Penguins are now at seven wins and six losses for 14 points so far this season. All of Jarry's 16 shutouts throughout his NHL career have come with the Penguins.