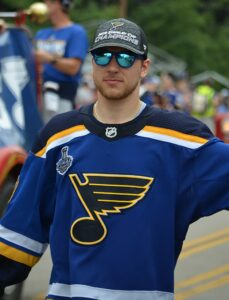 St. Louis Blues center and captain Brayden Schenn of Saskatoon, Saskatchewan notched his fourth career National Hockey League hat trick on Saturday. He accomplished the feat in an 8-2 St. Louis Blues win over the Colorado Avalanche. Schenn was actually one of two Blues to register a hat trick. He was joined by Pavel Buchnevich.
Schenn scored the first two goals of the game. He opened the scoring at 1:08 of the first period from Torey Krug and Justin Faulk. He then put the Blues up 2-0 with one minute and seven seconds left in the first period from Brandon Saad. Schenn then put the Blues up 6-1 on an all-Canadian goal from Robert Thomas of Aurora, Ontario, and Jordan Kyrou of Toronto, Ontario, with a power-play marker at 2:49 of the third period.
Schenn was one of two Canadians with a multi-point game. He in fact had four points as he picked up one of the assists on a goal by Pavel Buchnevich. Interestingly, Thomas also had a four-point game as he had four assists.
In 2023-24, Schenn has five goals and four assists for nine points. He is a -2 with six penalty minutes, three power-play points, 26 shots on goal, 82 faceoff wins, six blocked shots, 32 hits, 13 takeaways and 12 giveaways.
Schenn's first two hat tricks came with the Philadelphia Flyers. They were in a 5-3 Flyers win over the Calgary Flames on February 29, 2016, and in a 4-2 Blues win over the Dallas Stars on December 10, 2016. Schenn then scored thrice in a 4-3 Blues win over the Montreal Canadiens on December 5, 2017.
The Blues are in fourth place in the Central Division. They have a record of seven wins, five regulation losses and one loss in extra time for 15 points.