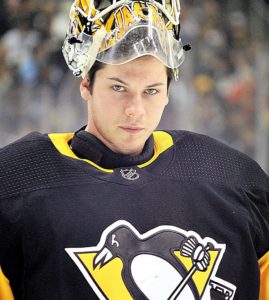 Tristan Jarry of Surrey, British Columbia continued his fine start to the 2021-22 National Hockey League regular season. On Friday, Jarry made 25 saves as the Pittsburgh Penguins defeated the New York Islanders 1-0 from UBS Arena in Elmont, New York.
Jarry made six saves in the first period, eight saves in the second period, and 11 saves in the third period. It was his third shutout of the 2021-22 NHL regular season. He previously blanked the Pittsburgh Penguins 6-0 at the Bell Centre on November 18, and the Toronto Maple Leafs 2-0 on November 20.
Kasperi Kapanen scored Pittsburgh's only goal on Friday. Matt Martin of Windsor, Ontario, Andy Andreoff of Pickering, Ontario, and Oliver Wahlstrom led the Islanders with three shots on goal each.
So far this season, Jarry has a record of 10 wins, four regulation losses, and three losses in extra time. He has a spectacular goals against average of 1.91, and a save percentage of .936.
Jarry has also been a workhorse for the Penguins this season. He leads the NHL with 1037 minutes. There are genuine concerns among Penguins fans that he is playing too much, and could be burned out come playoff time–especially if he is also named as a goaltender for Team Canada at the 2022 Olympic Winter Games in Beijing.
The Penguins have won five straight games, the longest current streak in the NHL. With a record of 10 wins, six regulation losses and four losses in extra time, they have 24 points and are tied with the Columbus Blue Jackets for the eighth and final playoff spot in the Eastern Conference.