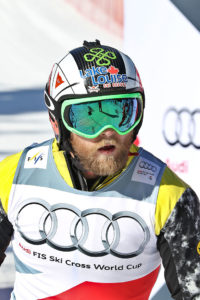 Canadian Olympic gold medalist Brady Leman of Calgary, Alberta won the silver medal on Saturday from a World Cup men's ski cross competition in Secret Garden, China. For Leman, it was the 29th World Cup medal of his men's ski cross career. He has now won five gold medals, 14 silver medals, and 10 bronze medals. Leman won the gold medal for Canada in men's ski cross at the 2018 Olympic Winter Games in Pyeongchang.
Leman's silver medal in Secret Garden, China on Saturday, has some added significance. That is because the Secret Garden course will be used as the ski course for the 2022 Olympic Winter Games in Beijing.
The men's World Cup big final in Secret Garden, was extremely close and required a photo finish to determine the order of the medalists. Sergey Ridzik of Russia won the gold medal and Bastien Midol of France won the bronze medal. Initially, it was believed that Leman had won the bronze medal, and was behind Midol. However, that is why you have a photo finish.
This was the first of 14 World Cup men's ski cross races during the 2021-22 season. There will be two World Cup races in Canada in Nakiska, Alberta on January 14 and 15.