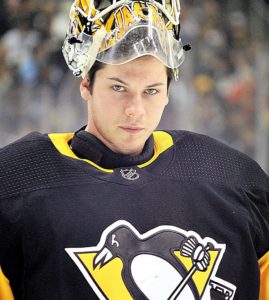 Tristan Jarry of Surrey, British Columbia recorded his 15th career National Hockey League shutout on Thursday. He accomplished the feat in a 4-0 Pittsburgh Penguins win over the Colorado Avalanche. Jarry made 31 saves (five saves in the first period, 13 saves in the second period, and 13 more saves in the third period). All 15 of Jarry's shutouts in his career have been with the Penguins.
In 2023-24, Jarry has a record of two wins and three losses, with a goals against average of 2.24, and a save percentage of .917. Ironically, both of Jarry's wins have been shutouts, as he blanked the Washington Capitals 4-0 on October 13.
Jarry is one of two goaltenders with two shutouts to lead the NHL regular season in 2023-24. The other is Tampa Bay Lightning goaltender Jonas Johansson of Gavle, Sweden. The Lightning must be thrilled with the goaltending of Johansson as Andriy Vasilevskiy was expected to be the regular Lightning goaltender in 2023-24, but will miss the first two months of the season with back surgery.
Two Canadians scored for the Penguins. Reilly Smith of Mimico, Ontario scored two first period goals for Pittsburgh, and Canadian Olympic gold medalist Sidney Crosby of Cole Harbour, Nova Scotia scored in the third period. With the win, the Penguins improve to a record of three wins and four losses for six points. Crosby won the gold medal for Canada at the 2010 Olympic Winter Games in Vancouver and the 2014 Olympic Winter Games in Sochi.