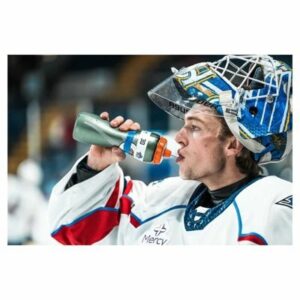 Joel Hofer of Winnipeg, Manitoba notched his first career National Hockey League career shutout on Thursday. He accomplished the feat in a 2-0 St. Louis Blues win over the Calgary Flames at the Scotiabank Saddledome in Calgary, Alberta.
Hofer made 27 saves overall. He made 10 saves in the first period, four saves in the second period, and 13 saves in the third period. The Blues goal scorers were Kasperi Kapanen, Nick Leddy and Oskar Lundqvist.
This was only Hofer's second game in between the pipes for the Blues this season. He struggled mightily on October 19. Hofer gave up six goals in a 6-2 Blues loss to the Arizona Coyotes. In two games this season, Hofer has a record of one win and one loss with a goals against average of 3.01, and a save percentage of .913.
The Blues are currently at three wins, two regulation losses and one loss in extra time for seven points. Their other two wins this season came on October 14 in a 2-1 shootout win over the Seattle Kraken, and on October 21 in a 4-2 win over the Pittsburgh Penguins. This was the first of two back-to-back games the Blues have in Canada. They will be playing at Rogers Arena in Vancouver, British Columbia on Friday night against the Vancouver Canucks.