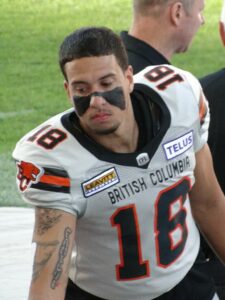 Two Canadians contributed to touchdowns for winning teams in Week 15 of the 2023 Canadian Football League regular season. Edmonton Elks quarterback Tre Ford of Niagara Falls. Ontario and British Columbia Lions wide receiver Justin McInnis of Pierrefonds, Quebec were responsible for multiple touchdowns.
Ford had one touchdown pass and one touchdown run in a 36-27 Elks win over the Saskatchewan Roughriders on Friday night from Mosaic Stadium in Regina, Saskatchewan. He had a 30-yard touchdown pass to Eugene Lewis with 12:59 left in the fourth quarter to tie the game at 27, and then had a 10-yard touchdown run with six minutes left to put the Elks up 34-27. In the game, Ford completed 13 of 20 passes for 173 passing yards, and had eight rushes for 70 rushing yards. On the season, Ford now has completed 81 passes in 117 attempts for 1163 passing yards, seven touchdown passes and four interceptions. He has 47 rushes for 471 rushing yards and three rushing touchdowns. After a disastrous start, the Elks have now won four of their last five games.
McInnis had two touchdown catches in a 41-37 Lions win over the Ottawa Redblacks on Saturday. He had a 19-yard touchdown catch from Vernon Adams Jr. with four minutes and 54 seconds left in the second quarter, which put British Columbia up 14-9 at the time, and then a six-yard touchdown pass from Adams Jr. with two minutes and 27 seconds left in the game. British Columbia had a remarkable comeback in this one, as they were once trailing 37-21 with two and a half minutes left before they outscored the Redblacks 20-0. With the win, the Lions improved to a record of nine wins and four losses.
In the game, McInnis had eight catches for 118 receiving yards. He now has 36 catches for 543 receiving yards and four touchdowns in 2023.