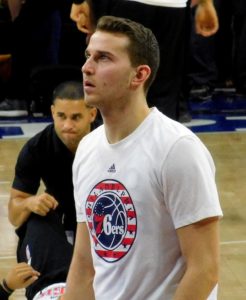 The Portland Trail Blazers signed Nik Stauskas of Mississauga, Ontario to a one year deal worth $1.6 million on Saturday.The Trail Blazers become Stauskas's fourth NBA team as he has also played for the Sacramento Kings, Philadelphia 76ers and Brooklyn Nets.
Last season while sharing his time with Philadelphia and Brooklyn, Stauskas played 41 games and averaged 4.4 points per game. He also had a field goal percentage of .390, a three-point percentage of .400 and a free throw percentage of .724.
By earning $1.6 million, Stauskas remarkably earns the minimum wage in the NBA. His contract is indeed minimal compared to the one that LeBron James signed on Sunday. James is joining the Los Angeles Lakers after signing a massive contract of $145 million over the next four years.
Stauskas meanwhile has been brought in to help the Trail Blazers' depth at shooting guard. The Trail Blazers already have C.J. McCollum, who was the NBA's most improved player in 2015-16.
In 2017-18, Portland had the third best record in the Western Conference with at 49 wins and 33 losses. They were only behind the Houston Rockets and Golden State Warriors. However like the Toronto Raptors, the Trail Blazers could not continue their regular season success into the postseason as they were swept in four straight games by the New Orleans Pelicans in the Western Conference quarterfinals.