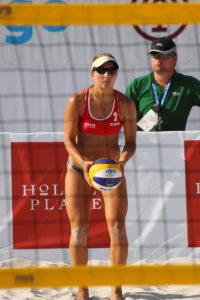 Heather Bansley of London, Ontario and Brandie Wilkerson of Innisfil, Ontario continued their marvelous play in women's beach volleyball this past weekend in Warsaw, Poland. Bansley recorded her first career gold medal on the FIVB Beach Volleyball World Tour as she teamed up with Wilkerson for a straight set 21-17, 21-17 win over Julia Sude and Chantal Laboureur of Germany in the gold medal game.
Bansley and Wilkerson won their two Pool D matches. In the first game, they beat Bing Bai and Xinxin Wang of China 21-10, 21-11. They then beat Tanja Huberli and Nina Betschart of Switzerland 21-17, 21-17 to improve to two wins and zero losses and good enough to win the group.
In the round of 16, Bansley and Wilkerson had continued success against China as they beat Fan Wang and Xinyi Xia 21-14, 21-14. That set up a quarterfinal showdown against Barbora Hermannova and Marketa Slukova of the Czech Republic. After losing 17-21, 21-15, 15-13 to them in the final of Ostrava, Czech Republic on July 24, Bansley and Wilkerson got revenge with a 21-19, 18-21, 15-8 three set victory. The Canadians then beat Kelly Claes and Brittany Hochevar of the United States 21-17, 21-12 in the semifinal.
This was Bansley and Wilkerson's third straight World Tour medal. In addition to their silver in the Czech Republic on June 24, they won the bronze medal in Itapema, Brazil on May 20.
Bansley and Wilkerson are fourth in the world. However, despite their success, they are still not the top Canadians. That title belongs to Melissa Humana-Paredes of Toronto, Ontario and Sarah Pavan of Kitchener, Ontario who are not only number one in Canada, but number one in the world.