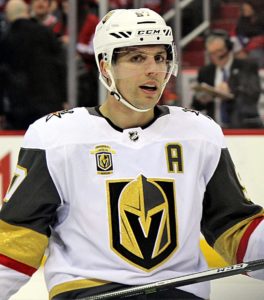 The St. Louis Blues must like David Perron of Sherbrooke, Quebec. One should wonder why they ever parted ways with Perron to begin with.
On Sunday, the Blues signed Perron to a four year deal worth $16 million. Perron was the one of many Vegas Golden Knights who had a breakout season in 2017-18. He had 16 goals and 50 assists for 66 points. His 50 assists and 66 points were both career highs.
This is Perron's third time with the Blues. He originally played his first six NHL seasons with St. Louis after being the Blues's first round draft pick, 26th overall, in the 2007 National Hockey League Entry Draft. In his first stint with the Blues he had a career high 21 goals with the Blues in 2011-12. Perron remained in St. Louis through 2012-13 when he was traded to the Edmonton Oilers for Magnus Paajarvi.
Perron would play with the Oilers, Pittsburgh Penguins and Anaheim Ducks over the next three seasons before signing as a free agent with the Blues on July 1, 2016. During the 2016-17 season, Perron had 18 goals and 28 assists for 46 points before being selected by the Golden Knights in the 2017 NHL Expansion Draft.
Perron is one of three Canadians the Blues have signed as free agents. The others are goaltender Chad Johnson of Saskatoon, Saskatchewan (1 year, $1.75 million) and center Tyler Bozak of Regina, Saskatchewan (three years, $15 million). Johnson had a record of 10-16-3 with a goals against average of 3.55 and a save percentage of .891 with the Buffalo Sabres last season. Bozak had 11 goals and 32 assists for 43 points in 81 games with the Toronto Maple Leafs.
The Blues did lose goaltender Carter Hutton of Thunder Bay, Ontario to free agency. Hutton signed a three year contract worth $8.25 million with the Buffalo Sabres. Hutton had a great year last year with the Blues as he led the NHL with a 2.09 goals against average and .931 save percentage. He also had a record of 17-7-3 with three shutouts.
It will be interesting to see how productive Hutton will be with Buffalo. Don't forget, Brian Elliott of Newmarket, Ontario had great statistics during his time with the Blues, but could not duplicate his success with the Calgary Flames and Philadelphia Flyers.