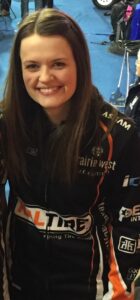 Tracy Fleury of Sudbury, Ontario is one win away from representing Canada at the 2022 Olympic Winter Games in Beijing. Fleury's East Paul, Manitoba curling team which includes third Selena Njegovan and second Liz Fyfe of Winnipeg, and lead Kristin MacCuish of Landmark, Manitoba are perfect at the 2021 Canadian Olympic Trials in Saskatoon, Saskatchewan. With a record of seven wins and zero losses, they have now clinched a spot in Sunday's final.
On Thursday, Fleury reached the double digits in point totals in both of her games against Alberta-based teams. In the morning, she beat Edmonton's Laura Walker 11-7, and then in the evening, she beat Lethbridge's Casey Scheidegger 10-3. Of her 21 points on Thursday, eight points came off of steals (two against Walker and six against Scheidegger). In her seven wins, Fleury has now stolen 19 points.
We also know that Winnipeg's Jennifer Jones is also in the semifinals with a record of five wins and two losses. Manitoba's Kerri Einarson will play Jones on Saturday if she beats Kelsey Rocque of Edmonton on Friday. If Einarson loses, and Walker and Scheiddeger win, there could be a four-way playoff that includes Thunder Bay, Ontario's Krista McCarville.
On the men's side, there are four teams above .500 at this time. Brad Gushue of St. John's, Newfoundland and Brad Jacobs of Sault Ste. Marie, Ontario, each have only one loss (6-1 and 5-1 respectively), while Alberta's Kevin Koe and Winnipeg's Mike McEwen are at four wins and two losses each.