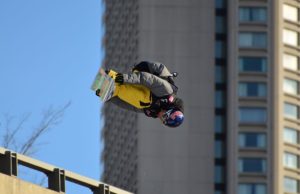 Sebastien Toutant of Montreal, Quebec won the gold medal for Canada in men's big air snowboarding on Saturday (Friday evening in Canada) and in the process became Canada's 500th medalist in the history of the Olympic Games. The event of big air snowboarding was making its debut at the 2018 Olympic Winter Games in Pyeongchang. 
Toutant was brilliant in his first two runs as he posted scores of 84.75 and 89.5 points for 174.25 points overall. Kyle Mack of the United States won the silver medal with 168.75 points and Billy Morgan won a surprise bronze medal for Great Britain with a score of 168 points.
Toutant earned a medal by 21.25 points over Chris Corning of the United States, who finished in fourth place with 153 points. According to Reuters Media, Toutant had a cab triple 1620 in his first run and a backside triple cork 1620 with his second run. With his third run, Toutant did not execute his cab 1620, but he did not need it because what he executed with his first two jumps was enough.
There is no doubt that Toutant was an underdog to win Olympic gold. In fact, he was clearly the third ranked Canadian snowboarder behind Mark McMorris and Max Parrot. However it was Toutant who won Olympic gold in Pyeongchang, becoming Canada's 11th gold medalist at the 2018 Olympic Winter Games in Pyeongchang.