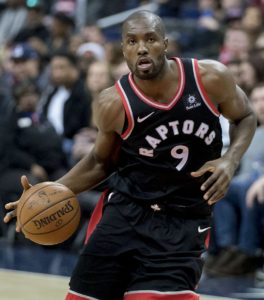 The Toronto Raptors have a 1-0 lead in their Eastern Conference quarterfinal series against the Washington Wizards with a come from behind 114-106 win at the Air Canada Centre in Toronto on Saturday. The Raptors trailed the Wizards 59-55 at halftime and 86-85 after three quarters before outscoring the Wizards 28-21 in the final 12 minutes.
Toronto has a history of playing poorly in the first game of a playoff series, and for many times during their game against the Wizards, it seemed like they would come away with a loss. However the Raptors played stingy defense in the final stanza and were able to come away with a critical win.
Serge Ibaka led the Raptors in scoring with 23 points. The power forward from Brazzaville, Congo also had the double double as he recorded 12 rebounds. It was also a strong game for CJ Miles, as he notched four three pointers at key times.
Of the eight first round playoff series, two road teams came away with wins on the weekend. On Saturday, the New Orleans Pelicans beat the Portland Trail Blazers 97-95 and on Sunday, the Indiana Pacers trounced the Cleveland Cavaliers 98-80. The Raptors/Wizards winner faces the Pacers/Cavaliers winner in the second round of the NBA Playoffs.