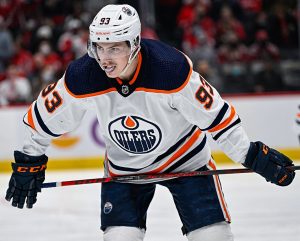 The Edmonton Oilers evened their best out of seven series with the Vegas Golden Knights on Wednesday at two games apiece following a 4-1 victory. In game four of their second round series of the 2023 Stanley Cup Playoffs, Ryan Nugent-Hopkins of Burnaby, British Columbia, and Connor McDavid of Richmond Hill, Ontario led the Oilers in scoring with two points as they each had a multi-point game. Nugent-Hopkins had one goal and one assist. McDavid had two assists.
One other Canadian scored for the Oilers. That was Evan Bouchard of Oakville, Ontario. He scored the game-winner at 7:38 of the first period from McDavid and Nugent-Hopkins on the power play to put the Oilers up 2-0. The other Oilers goal scorers were Nick Bjugstad and Mattias Ekholm.
The series now shifts to Vegas on Friday. However both the Oilers and Golden Knights could be missing a defenseman. That is because in game four at Edmonton's Rogers Place, Golden Knights blueliner Alex Pietrangelo delivered a vicious high stick on Oilers superstar Leon Draisaitl, and Oilers defenseman Darnell Nurse instigated a fight with Golden Knights blueliner Nicolas Hague late in the third period.
Both Western Conference second round playoff series are tied at two. The Dallas Stars and Seattle Kraken are also even.