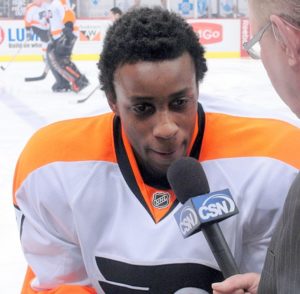 The Toronto Maple Leafs made two significant signings on Friday as they signed right winger Wayne Simmonds of Scarborough, Ontario to a one year contract worth $1.5 million according to mapleleafshotstove.com, and defenseman T.J. Brodie of Chatham, Ontario to a four year deal worth $20 million according to Adam Gretz of NBC Sports. 
Simmonds shared his time in 2019-20 with the New Jersey Devils and Buffalo Sabres. In 68 games, he had eight goals and 17 assists for 25 points. Simmonds was also a -21 with 66 penalty minutes, nine power play points, one game winning goal, 119 shots on goal, 29 faceoff wins, 29 blocked shots, 145 hits, 27 takeaways, and 18 giveaways. Simmonds scored his lone game winning goal in 2019-20 during the 4-1 Devils win over the Detroit Red Wings on February 13. In addition to the Sabres and Devils, Simmonds has played for the Los Angeles Kings, Nashville Predators and Philadelphia Flyers.
Brodie had four goals and 15 assists for 19 points in 64 games with the Calgary Flames in 2019-20. He was a +7 with 36 penalty minutes, one game winning goal, one power play goal, 65 shots on goal, 87 blocked shots, 20 hits, 34 takeaways and 52 giveaways. Brodie's lone game winning goal came in a 3-2 Flames win over the Columbus Blue Jackets on March 4. Brodie had played the last decade in Calgary before signing with Toronto.