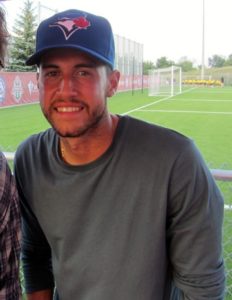 Toronto FC  has won their first ever MLS Cup in franchise history on Saturday. In front of a vocal, patriotic and sellout crowd at BMO Field in Toronto, Ontario, Toronto FC beat the Seattle Sounders 2-0 on second half goals by Jozy Altidore and Victor Vazquez. Altidore scored in the 67th minute, and was named MLS Cup most valuable player, and Vazquez scored in the 94th minute.
Even though Toronto FC got 31 regular season goals this season from Altidore and Sebastian Giovinco, it was the addition of Vazquez that provided an even more of a dangerous offensive attack as opposing defenders needed to worry about the Spaniard, who has experience playing alongside soccer superstar Lionel Messi of Argentina as well. Vazquez had eight regular season goals and two postseason goals for Toronto FC in 2017.
Of the starting 11 players in the championship game for Toronto FC, there was one Canadian–midfielder Jonathan Osorio of Toronto, Ontario, who now lives in Brampton, Ontario. Osorio has played the last five years for Toronto FC and has 13 goals in 141 regular season games and two postseason goals in 12 career playoff games.
Both of Osorio's playoff goals came during the 2016 MLS Playoffs. The first came in a 3-1 win over the Philadelphia Union on October 26 and the second came in a 5-0 win over New York City FC on November 6. In the 2017 MLS Playoffs, Osorio started the last three playoff games for Toronto FC. In addition to starting the MLS Cup, he started both legs of the Eastern Conference Final against the Columbus Crew.