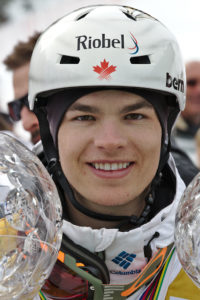 Canadian Olympic silver medalist Mikael Kingsbury of Sainte-Agathe-des-Monts, Quebec has won the gold medal in men's moguls in a World Cup in Ruka, Finland on Saturday. For Kingsbury it was the 30th World Cup moguls win in his outstanding freestyle skiing career.
Kingsbury had 87.45 points for the gold medal. Dmitriy Reikherd of Kazakhstan won the silver medal with 85.11 points. Pavel Kolmakov of Kazakhstan won the bronze medal with 84.44 points.
Kingsbury reached the podium by 5.21 points. Sho Endo of Japan finished in fourth place with 82.24 points.
With the 2018 Olympic Winter Games in Pyeongchang only two months away, Kingsbury is the men's moguls gold medal favourite. He was the World Cup men's moguls champion last year and won a World Cup in Pyeongchang this past February.
However one must remember two things. Kingsbury only won the bronze medal at the 2017 World Freestyle Skiing and Snowboarding Championships in Sierra Nevada, Spain in March, as he was beaten by Ikuma Horishima of Japan and Benjamin Cavet of France. (It should be noted however that Horishima only finished eighth in Ruka and Cavet was 14th). Also, Kingsbury was the gold medal favourite in men's moguls two months before the 2014 Olympic Winter Games in Sochi, but lost momentum to Canadian teammate and 2010 Olympic gold medalist Alexandre Bilodeau of Rosemere, Quebec closer to the 2014 Olympic Winter Games in Sochi, and had to settle for silver behind Bilodeau at the last Olympic Winter Games.
In women's moguls, Audrey Robichaud of Quebec City, Quebec won the silver medal. Robichaud had 77.73 points for the eighth World Cup medal of her career. Britteny Cox of Australia won the gold medal with 80.32 points. Marika Pertakhiya of Russia won the bronze medal with 74.59 points. Robichaud reached the podium by 4.69 points as Andi Naude of Regina, Saskatchewan finished in fourth place with 73.04 points.