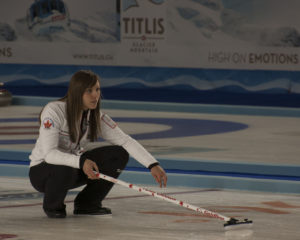 Rachel Homan of Ottawa, Ontario will be the skip for Team Canada in women's curling at the 2018 Olympic Winter Games in Pyeongchang.  On Sunday, in the women's final of the 2017 Canadian Olympic Curling Trials at the Canadian Tire Centre in Ottawa, Team Homan defeated Team Carey, skipped by Chelsea Carey of Calgary, Alberta, 6-5.
In addition to Rachel Homan, the curlers who will represent Canada at the 2018 Olympic Winter Games in Pyeongchang in women's curling are lead Lisa Weagle, second Joanne Courtney, third Emma Miskew, and fifth Cheryl Kerivazuk. They will also be joined by their coach, Adam Kingsbury.
Team Homan got off to a fantastic start in Sunday's final. They were able to steal one point in the first end, when Carey tried to blank the end, but flashed instead. Homan then stole a second point in the second end and then got a key deuce in the sixth end to take a 5-2 lead.
The Homan team enters the 2018 Olympic Winter Games in Pyeongchang as the gold medal favourite. At the 2017 Scotties Tournament of Hearts in St. Catharines, Ontario, Homan went through the round robin at 10-1, with her only loss to Michelle Englot of Winnipeg, Manitoba by a score of 9-5. Homan also lost 9-8 to Englot in the 1-2 page playoff game before beating Krista McCarville of Thunder Bay, Ontario 7-5 in the semi-final and Englot 8-6 in the final.
Homan then went undefeated at the 2017 World Women's Curling Championships in Beijing. She defeated Russia's Anna Sidorova 8-3 in the gold medal game. It should be noted that 2017-18 has not been the best season for Team Homan on the World Curling Tour. The team failed to make the playoffs in the Tour Challenge and the Masters, before losing to Casey Scheidegger of Lethbridge 8-4 in the quarterfinals of the National.